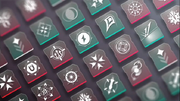 | | |
| --- | --- |
| | This article is about devices from Everspace 2. For devices from Everspace, see Devices. |
Devices in Everspace 2 are active abilities with a cooldown after they are used. There are two types: Warfare and Support. Warfare devices are vital tools for handling tougher enemies or large groups whereas support devices will help a pilot to survive longer. Some devices will need a target that is in range to function, others can be activated in any situation. Devices do not require energy to use and do not recharge while docked at a station.
Devices can be upgraded to unlock different device modes with an upgrade token, received at level-ups.
List of Warfare Devices
[
]
| Icon | Name | Description |
| --- | --- | --- |
| | Annihilator Virus | Infects the target with a virus that spreads to nearby targets every 2.0s. After 10s, all affected ships suffer 385 damage. |
| | Corrosion Injector | Afflicts the target with corrosion, dealing 21 damage per second directly to the hull for 14 seconds. |
| | EMP Generator | Creates an electro-magnetic pulse in a 500m radius around the ship, disabling all targets for 8s. |
| | Magnetic Repulsor | Pushes the target towards the aim direction. Target receives 100% increased collision damage for 5s. |
| | Quantum Entangler | When activated, any damage done to the user will also be applied to the target with 50% increased intensity for 18s. |
List of Support Devices
[
]