Jurassic World: Dominion Dominates Fandom Wikis - The Loop
Play Sound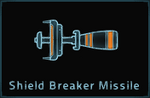 Shield Breaker Missile
Secondary Weapon
‌
Class Restriction
{{{classres}}}
{{{classres2}}}
{{{classres3}}}
{{{classres4}}}
‌
Shield DPS
{{{shielddps}}}/s
‌
Hull Area Damage
{{{hullareadmg}}}
‌
Shield Area Damage
{{{shieldareadmg}}}
‌
Energy Consumption
{{{energyconweap}}}/s
‌
Energy Consumption
{{{energycon}}}
‌
Damage Per Energy
{{{dmgxen}}}
‌
Full Charge Duration
{{{fullchdur}}}s
‌
Full Charge Damage Bonus
{{{fullchdmgx}}}x
‌
Full Charge Add. Projectiles
{{{fullchpro}}}
‌
Damage Increase
+{{{dmginc}}}%
‌
Energy Consumption Increase
+{{{energyconinc}}}%
‌
Energy Allocation
{{{energyalloc}}}
‌
Recharge Rate
{{{rechargerate}}}/s
‌
Recharge Delay
{{{rechargedel}}}s
‌
Shutdown Duration
{{{shutdowndur}}}s
‌
Cooldown Duration
{{{cooldur}}}s
‌
Cooldown Duration Decrease
-{{{cooldurdec}}}%
‌
Fire Rate Increase
+{{{firerateinc}}}%
‌
Energy Consumption Decrease
-{{{energycondec}}}%
‌
Hitpoints Increase
+{{{hpincper}}}%
‌
Recharge Rate Increase
+{{{rechrateinc}}}%
‌
Recharge Delay Decrease
-{{{rechdeldec}}}%
‌
Shutdown Duration Decrease
-{{{shutdowndurdec}}}%
‌
Resource Amount
{{{resamt}}}
‌
Effect Duration
{{{effectdur}}}s
‌
Repair Amount
{{{repamt}}}
‌
Life Time
{{{lifetime}}}s
‌
Critical Hit Chance Increase
+{{{crithitchinc}}}%
‌
Velocity Increase
+{{{speedinc}}}%
‌
Range Increase
+{{{rangeinc}}}%
‌
Spread Decrease
-{{{spreaddec}}}%
‌
Effect Duration Increase
+{{{effectdurinc}}}%
‌
Jump Cooldown Increase
+{{{jmpcooldinc}}}%
‌
Full Charge Damage Mulitplier
{{{fullchdamx}}}x
‌
Success Chance
{{{succha}}}%
‌
Nano Bot Drop Chance
{{{nanodrop}}}%
‌
Shield Piercing
+{{{shieldpierce}}}%
‌
Conversion Percentage
{{{convpercent}}}%
‌
Conversion Amount
{{{convamt}}}
‌
Conversion Ratio
{{{convratio}}}
‌
Critical Hit Chance
{{{crithit}}}%
CRAFTING
Required Resources
‌
Nano Bots
{{{nanobot}}}
‌
‌

Viridian Energy
{{{venergy}}}
‌
‌

Scrap
{{{scrap}}}
‌
‌

Gel
{{{gel}}}
‌
‌

Compounds
{{{compound}}}
‌
‌

Power Cells
{{{pcell}}}
‌
‌

Processors
{{{processor}}}
‌
‌

Crystals
{{{crystal}}}
‌
‌

Gas
{{{gas}}}
‌
‌

Ore
{{{ore}}}
‌
‌

Plasma
{{{plasma}}}
‌
‌

Dark Matter
{{{dmatter}}}
‌
‌

Dark Energy
{{{denergy}}}
SALVAGING
Obtained Resources
‌
Nano Bots
{{{salnanobot}}}
‌
‌

Viridian Energy
{{{salvenergy}}}
‌
‌

Scrap
{{{salscrap}}}
‌
‌

Gel
{{{salgel}}}
‌
‌

Compounds
{{{salcompound}}}
‌
‌

Power Cells
{{{salpcell}}}
‌
‌

Processors
{{{salprocessor}}}
‌
‌

Crystals
{{{salcrystal}}}
‌
‌

Gas
{{{salgas}}}
‌
‌

Ore
{{{salore}}}
‌
‌

Plasma
{{{salplasma}}}
‌
‌

Dark Matter
{{{saldmatter}}}
‌
‌

Dark Energy
{{{saldenergy}}}
The Shield Breaker Missile is a secondary weapon in Everspace that fires a missile does lots of damage to shields, but very little damage to the hull of enemy ships.
Similarly to Light Missiles, Shield Breaker Missiles are cheap and should be crafted and used often to help kill enemies faster.
Comes equipped in the Colonial Scout's loadout B.
Crafting
[
]
Required Resources
Obtained Resources
‌
Nano Bots
{{{nanobot}}}
‌
‌

Viridian Energy
{{{venergy}}}
‌
‌

Scrap
4
‌
‌

Gel
{{{gel}}}
‌
‌

Compounds
{{{compound}}}
‌
‌

Power Cells
{{{pcell}}}
‌
‌

Processors
{{{processor}}}
‌
‌

Crystals
{{{crystal}}}
‌
‌

Gas
1
‌
‌

Ore
2
‌
‌

Plasma
{{{plasma}}}
‌
‌

Dark Matter
{{{dmatter}}}
‌
‌

Dark Energy
{{{denergy}}}
Salvaging
[
]
Required Resources
Obtained Resources
‌
Nano Bots
{{{nanobot}}}
‌
‌

Viridian Energy
{{{venergy}}}
‌
‌

Scrap
1
‌
‌

Gel
{{{gel}}}
‌
‌

Compounds
{{{compound}}}
‌
‌

Power Cells
{{{pcell}}}
‌
‌

Processors
{{{processor}}}
‌
‌

Crystals
{{{crystal}}}
‌
‌

Gas
{{{gas}}}
‌
‌

Ore
{{{ore}}}
‌
‌

Plasma
{{{plasma}}}
‌
‌

Dark Matter
{{{dmatter}}}
‌
‌

Dark Energy
{{{denergy}}}