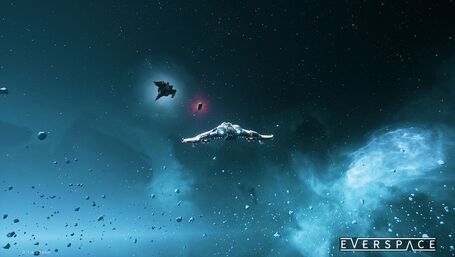 A wreck is the last clone's destroyed ship (if a previous run ended with death) in Everspace, just a random shipwreck, or a freighter wreck.
The player can find the previous clone's ship in maps marked with
once the Retrieval Perk is level 1. Once leveled up enough, the wreck can be salvaged for various resources and equipment from the wreckage.
Freighter Wrecks
[
]
Freighter wrecks are fairly common in all sectors (except Sector 7). They are a small debris field of a destroyed freighter that has several unbroken freighter containers, which can be destroyed for various resources and equipment, or can drop nothing at all.
Random shipwrecks
[
]
Throughout the sectors, random wreckages from deceased pilots are also found. It is not marked with the Wreck icon, however. The wreck can be approached and the ship's logs can be scanned, revealing several log entries from the pilot and rewarding some Credits, usually around $1,000 to $2,500, depending on difficulty and luck.
List of Log Entries
[
]
All of these log entries were submitted by Kickstarter backers who pledged money for the €250 or the €300 level. However, it seems not all 135 eligible backers submitted one, as there are only 28 in the game. However, some submissions may just not have been appropriate for the Everspace universe.
2nd Lt Vassie 'Quiet' Phoenix
Captain... (DATA_CORRUPTED)
Captain Alan L. Espasandin
Cpt. Kirion of the Zicron Corporation
Lieutenant Commander Kwa' Dazok
Simon Talon, mercenary for hire
Gallery
[
]